About our food markets
One August evening on a family holiday in the Dordogne, we made our way to the local market, and found the treasure that all tourists are looking for. Here was the community, embraced by the blue sky and sun-baked stone buildings of the town square. The air was full of the aromas of cooking and barbecuing, chattering and singing and French pop. It was buzzing. It was brilliant. This was a fragment of dream I wanted to bring home.
When I thought about how my family managed to eat out I realised the pleasure of being in a restaurant was lost in the stress of young kids with ants in their pants, thinking about dietary needs and compromising choices to account for what everyone's tastes. And then the hole in the purse.
That's where Seaton Eats Boutique came from. It wasn't all plain sailing but we got going and have been received by the community with gusto to match the French. So successful has Seaton Eats Boutique been, in 2018 we took the format and created Sidmouth Eats Boutique and there too, the community have given their resounding support.
One of our leading values in running these events is to make them accessible to everyone, be it diet, physical or financial. We choose venues that everyone can get to and around, with nearby facilities, and places that have plenty of space for kids to run around. We offer choice.
Our events are all about community
More so than ever we need to get together in person and share the roller coaster of life. What better way than to do so than under the big open sky on a Friday evening? With the humble gesture of gathering around the table we nourish ourselves with great food, and with food we find commonality. We build bridges, we build relationships, we build community.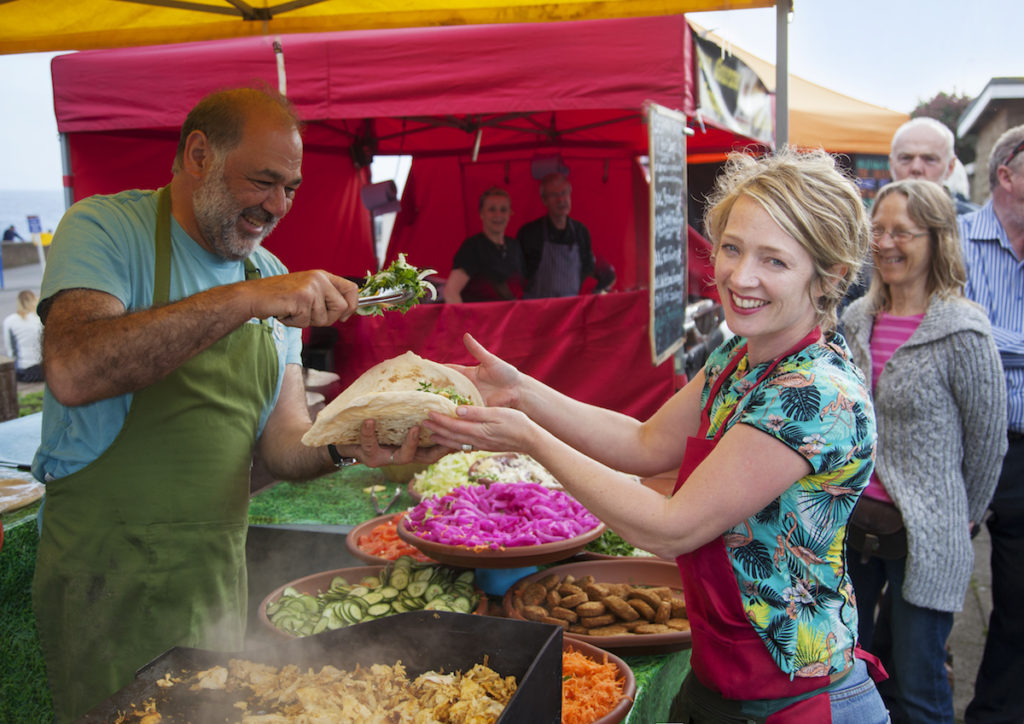 Interview with Kirsty Woodgate,
Editor of East Devon Resident magazine.
Please tell me, are you originally from East Devon?  If not, what brought you to the area?
We moved from Exeter in 2012 when my partner became a teacher at Seaton primary school. I'm a city girl at heart, having grown up in London, and moving to rural East Devon was tangled up with lots of other life transitions, like children.
What do you like most about the area?
They say you can never take the city out of a girl, but a girl can fall in love with the wild and green landscape. I already had a love affair with the sea as a keen scuba diver. I love this area because all of that is on our doorstep – its a privilege to have my children grow up here. 
Please can you tell me about how and when you started Eats Boutique? What made you think about starting the events business?
The inspiration for the pop up street food market came from a holiday to France in 2013. At the time I didn't know that it would lead to a small business. In fact, I didn't know I was starting a business when we had our first Seaton Eats Boutique in 2015. I was craving global flavours and I wanted somewhere to eat that was affordable and easy and that could cater for our young family and all our differing palates. And I kept thinking about this evening market we had been to in France where the whole community were out in the town square, tables were rented out the back of a lorry, the air was filled with the aromas of cooking and there was some very loud French pop on stage. It was buzzing, and I loved it. And I saw that Seaton had space for a community market like this. 
I used £400 form my savings to get some posters and an insurance policy, overcame a bit of opposition, took a few deep breaths and staged 2 Seaton Eats Boutiques in 2015. We have since increased our events to 5 each year, and quadrupled the footfall at each event. I was lucky that I could fit the business around my family and grow it at a pace that synched with those commitments. I can't say its kept me out of trouble but its given me license to explore entrepreneurship and creativity. 
Can you tell me what happens at a typical 'Eats Boutique' event? What makes 'Eats Boutique' unique?
Essentially its a market. We have 6-8 street food traders and a pop up pub. What makes us different to other markets is that we have taken the market model and merged it with the evening economy. They are intimate events with a buzz. I'm always amazed how patiently people queue, knowing that street food isn't fast food, that its worth the wait. My recommendation is to grab a drink from The Salty Arms and use queuing time to socialise and enjoy the theatre of street food and friendship. 
Sharing food is a ritual as old as time. Crossing cultures, building connection, growing understanding. Our Eats Boutique events invite you to join the community dining table, to linger in our community spaces and relish the wonderful landscape. Each event is little different as its coloured by the weather, the differing traders and the friends you meet. We trade 4-9 on Fridays because its a great way to relax into the weekend. 
How did the pandemic affect the business?
Nothing happened in 2020. I would never have been granted the licenses because our events are all about getting people together. By 2021 we were all feeling more comfortable with outdoor socialising and I'll never forget our first event back at the end of May in Seaton. I think literally everyone from within a 10 mile radius came, we ran out of beer at 6.30 and food at 7.30. The restaurants and takeaways in town ran out of food too. All of us traders had forgotten what to do, how to be busy, and it was utterly joyous. 
What are the future plans for Eats?
With 17 events in the diary this year I'm truly at capacity. There is scope to keep doing what we do in small towns and our challenge is to keep events like these viable so that our rural communities don't lose out. The events support sole traders and small businesses, enabling livelihoods and vibrancy in rural places. If anything positive has come out of the pandemic its that people recognise community resilience is built upon strong networks.