Welcome to Axminster Eats Boutique
A pop up street food market overlooking the hills, Axminster Eats Boutique takes place on the 4th Friday of the month.
Be a part of our community and find us on summer Friday nights under the big Devon sky.  Join us at the community dining table, nourish your friendships and eat your way around the world. It's where global cuisine meets the locals. Sharing food is a ritual as old as time. Check in with our calendar for 2023 event dates.
The people who trade at our events are small businesses and sole traders who live right here in the south west. Our events directly support up to 10 businesses each time.  By creating pop up street food markets Unique Boutique Events offers opportunities for traders to build a livelihood from street trading. We further contribute to building resilient local economies as many of us source  ingredients from local producers. Our loyal caravan of traders come back time and again because they know we make great food markets that our communities value. Find out more about our wonderful street food traders in our Hall of Fame.
Eats Boutique street food markets animate our town spaces by bringing people into their public realm. Our free to attend events are inclusive and accessible. Keep on reading for FAQs to make the most of your visit to our event.
We endeavour to include a guide to dietary options available from each trader on our menu, but please do check with each trader at the market if you have a specific request or allergy.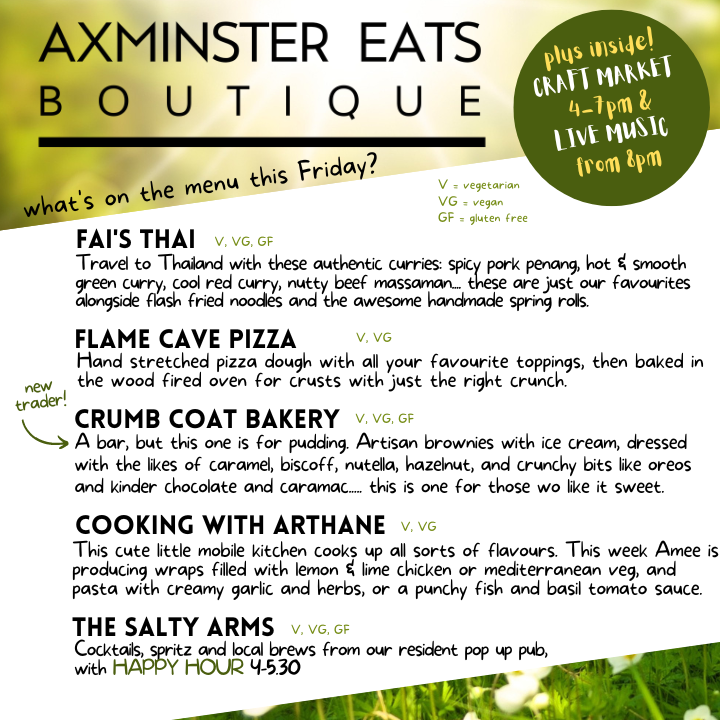 Whats on the menu?
Scroll up to see our latest menu, check out each event on our calendar a few days beforehand, follow us on social media….. Sometimes it can change last minute – life can get in the way sometimes! But we do our best to ensure that we have a range of options for all dietary needs but please do speak to search trader if you have an allergy.
When does it get busy?
If you want your food in a hurry come either early at 4, or late, at 8. We have extended our trading times to try and ease the pressure at peak time. Street food is fresh food not fast food so queues can take a little time. We suggest you grab a drink form the bar and use your queue time to make new friends with those around you. 
Our traders work long hours behind the scenes to be able to serve up what they love to eat. Please be patient – its a tough industry to be in right now. Please be kind and enjoy the theatre of their cooking. All that hard work is rewarded by having fun with our customers. We love meeting you. 
What should I bring?
Another layer for when the sun dips behind the hills, a cup or glass for your pop up pub purchases (or you can take part in our borrow and wash cup scheme for 25p), perhaps a cushion for your picnic, a bag for your craft market purchases and your dancing shoes for when the sun goes down and the music goes on.
Are dogs welcome?
Yes, our furry friends are very welcome if they are well behaved. If your pooch gets over excited you can always take them and your picnic onto Minster Green just across the road. Not everyone is a dog lover and we'd like all of our customers to feel welcome and comfortable in our space
Why is it about community?
Sharing food is a ritual as old as time. This informal way of dining its a great way to meet people that doesn't put too much pressure on the purse. Our crowd are loyal friends and come back time and again to soak up the atmosphere and catch up with their mates. Additionally The Guildhall is the heartbeat of Axminster's community and open their doors to welcoming you in with your food. Check out their craft market 4-7pm and following that there is a local live band on stage and dancing to be done.  
Is there somewhere to sit?
People perch on the walls and we bring a few tables and chairs – as many as we can carry. Across the road from us is Minster Green, a beautiful green space in front of the Church that has picnic tables and lots space to run around.
Can we bring our own food and drink?
If you choose to purchase food from an establishment in the town instead, then thats great. Spread the love! But please save little love for us because we are all trying to be viable businesses.
Where are the loos?
Across the road on the edge of the car park there are public facilities, including baby change and disabled access. There are also lovely loos inside the Guildhall.
Can I pay by card?
Yes – all traders take cards. You can also get a little cash back from the pop up pub.
Do you have music?
Inside the Guildhall there is a live band from about 8pm. Eat first, get your dancing shoes on then head in to hear some local talent!
What time is the market?
We open at 4 and serve until about 9pm or when the food runs out. 
Is there public transport?
Axminster has a mainline train station less than 10 minutes' walk away. There are also regular buses from Lyme Regis and Seaton. Check out TravelSW.
What else is there to do on a day out in Axminster?
See what else Axminster Guildhall has to offer. There's Axminster Heritage Centre and the Axe Valley Wildlife Park. Also take a look at Miller's Farm Shop for local produce. Shute Woods are brilliant for mountain biking, walk along the River Axe, visit the independent Flamingoes swimming pool, check out the old Court House. And if you're in a car visit Lyme Bay Winery, The Coffee Factory and Castlewood Vineyard. A bit of a local's secret, the Lower Bruckland Nature Reserve is a tranquil spot, and in in the other direction there's Burrow Farm Garden that hosts summer outdoor theatre.
Can't make this one? No worries. Check out our other upcoming events:
"We love Seaton Eats!!! A highlight of the summer season in Seaton! A great time to get  together with friends and family, chilled atmosphere and great location by the sea"
Alanah
"As a regular trader at Unique Boutique Events I have enjoyed thorough professionalism  from the very first event and for the last four years of my association with the management  of this beautiful upmarket festival."
Edmund
"Lovely events that bring people together in a party atmosphere. Always fun and  interesting food choices"
Claire