Traders Hall of Fame
Come on in and meet some of our regular traders
Check out our calendar for each event's menu.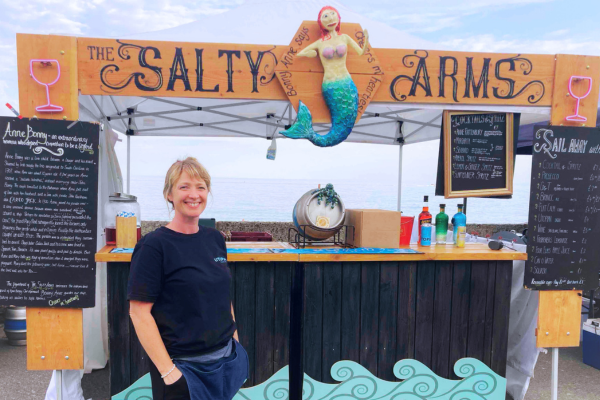 Leading the voyage is Bonny Anne, our mermaid figurehead. The Salty Arms sails into each and every Eats Boutique street food market, bringing flavours from across Devon. Our pop up pub follows the ethos of our events by championing small and local producers,  having a Borrow and Wash scheme on reusable cups, paying fair wages and minimising our carbon footprint.
The Salty Arms is run by Eats Boutique organiser Eleanor. Its a truly mobile bar and can pop up anywhere, including private parties and events. If you'd like to hire our mobile bar please get in contact.
Toby has worked in many guises, including modelling and tennis coaching. These days he fries up Spanish finger doughnuts at festivals and events across the south west. All the ingredients he uses are sourced from south west producers, including Willy's chocolate for the dipping sauce.
Churros are a Spanish / Mexican sweet treat, crepes on the outside and soft in the middle. They are piped into a deep fryer, which gives them ridges to make them extra crispy. The ridges also serve to hold on to the sugar that's sprinkled over them – traditionally cinnamon sugar, and then dip into chocolate sauce. A great street food because their finger shape makes them easy to eat while out and about. Best eaten fresh and warm.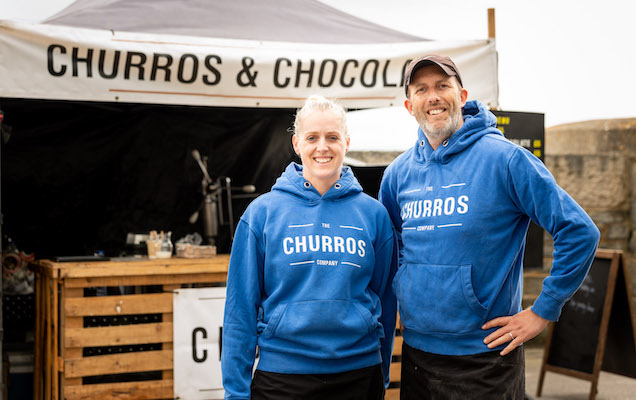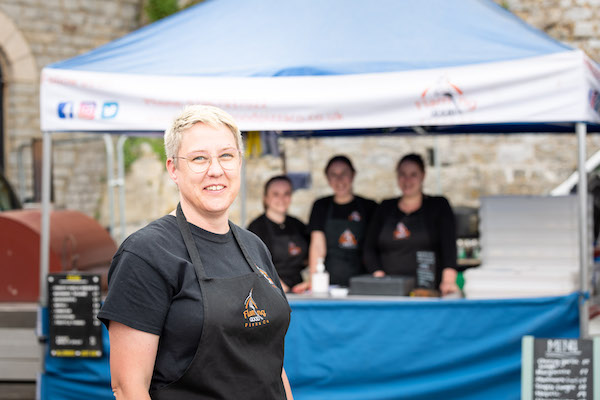 Flaming Good Pizza traded at Eats Boutique before Anna – she bought in and arrived at our events on 2019, trading with us since. Her very thin and crispy Neapolitan style pizza bases take only 90 seconds to cook in the wood fired oven, which reaches temperatures of 450 degrees celsius. Anna is a busy lady – not only does she run Flaming Good Pizza, she also works part time as a carer in and around Honiton.
The specialty on Kumbi's stall is his Caribbean Goat curry – meat so tender that it just falls off the bone, and slow cooked for depth of flavour.
Goat is consumed across the world and is in fact even more than beef and chicken. Considered a red meat its much leaner than beef and has far better environmental credentials too. By browsing the land rather than grazing goats eat weeds and bushes as well as grass, and they produce more milk than a cow while consuming the same amount of food. While 1 acre is needed to support one cow, the same land can support 10-15 goats.
Never tried goat meat? Here's your chance. Top it with Kumbi's range of hot and mild sauces created in his Dawlish kitchen.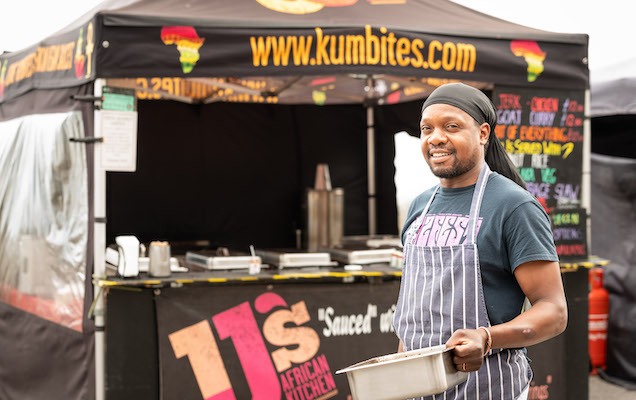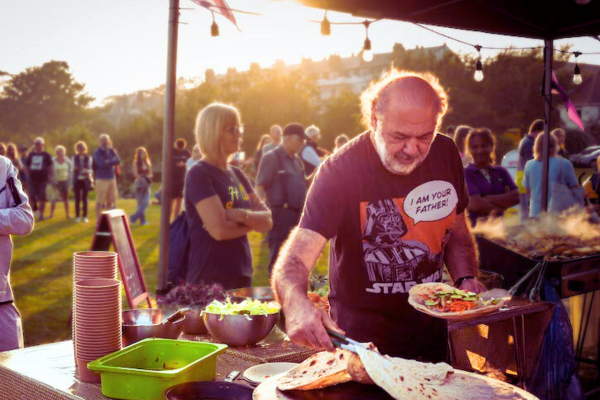 Edmond, our Persian King of Plymouth, is our longest standing trader. His Persian chicken wraps are a feast for the senses: rich, colourful flavoursome cuisine. BBQ chicken infused with saffron to give it that vibrant yellow colour, is loaded onto a flatbread with an array of salads, pickles ad sauces that give a taste sensation with every mouthful. Spices and herbs are the backbone of Persian cuisine with flavours such as lemon, ginger, saffron and sumac.
Edmond came to the UK during the Persian uprising in 1979 and made his home in Plymouth. He has worked in catering of all flavours and is one of the hardest working people I know. For health reasons Edmond is taking some time off this summer and we wish him a speedy return to good health. We miss his charm greatly.
Fai arrived in the UK and couldn't stand the stodgy English diet. So she learned to cook the food from her home, Buri Ram (the city of happiness) in eastern Thailand. She and Tony went to parties with her spring rolls, and they were a hit. When a friend gave up their market stall Tony and Fai took the plunge starting their street food business. Thai food is based on balancing the 4 pillars of flavour: Sweet, Sour, Salty and Spicy. Ingredients such as lime and green mango, coconut,  shrimp paste and fish sauce and of course, those red and green chillies. Then welcome to the stage the fresh, often medicinal herbs like coriander, Thai basil, lemongrass and galangal and you start to get the layers of flavour that make up a beautifully balanced Thai dish. Tony and Fai have got all your favourites, along with those legendary spring rolls and make regular appearances at our events.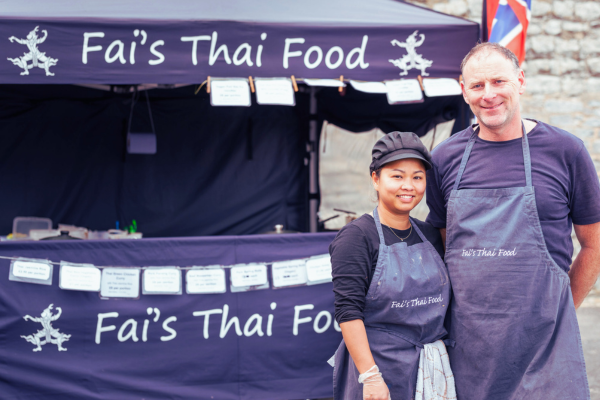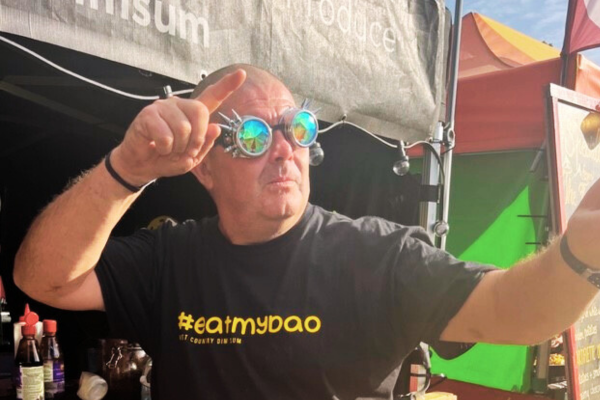 This is Frazer, Sidmouth local and world traveller. Before Frazer started up West Country Dim Sum he lived and worked all over the place being a tour guide amongst many other things. We like Frazer in soft focus, because beneath that crispy bottom he's as silky soft as a steamed dumpling. Which are handmade and delicious and take quite some time to perfect the fold. The origami of food. If you get the fold wrong the steam gets into the dumpling and when you bite into it you r lips get scorched but the water. Not so with Frazer's dumplings – all you get are the delicious recipes he dreams up, including locally foraged seaweed and crab and the vegan duck that could fool a vegan.