Welcome to Lyme Eats Boutique
We create evening street food markets that bring the community together in the stunning Jurassic landscape. Join us on a Friday evening in Lyme Regis this summer to nourish your friendships and eat your way around the world.
We endeavour to include a guide to dietary options available from each trader on our menu, but please do check with each trader at the market if you have a specific request or allergy.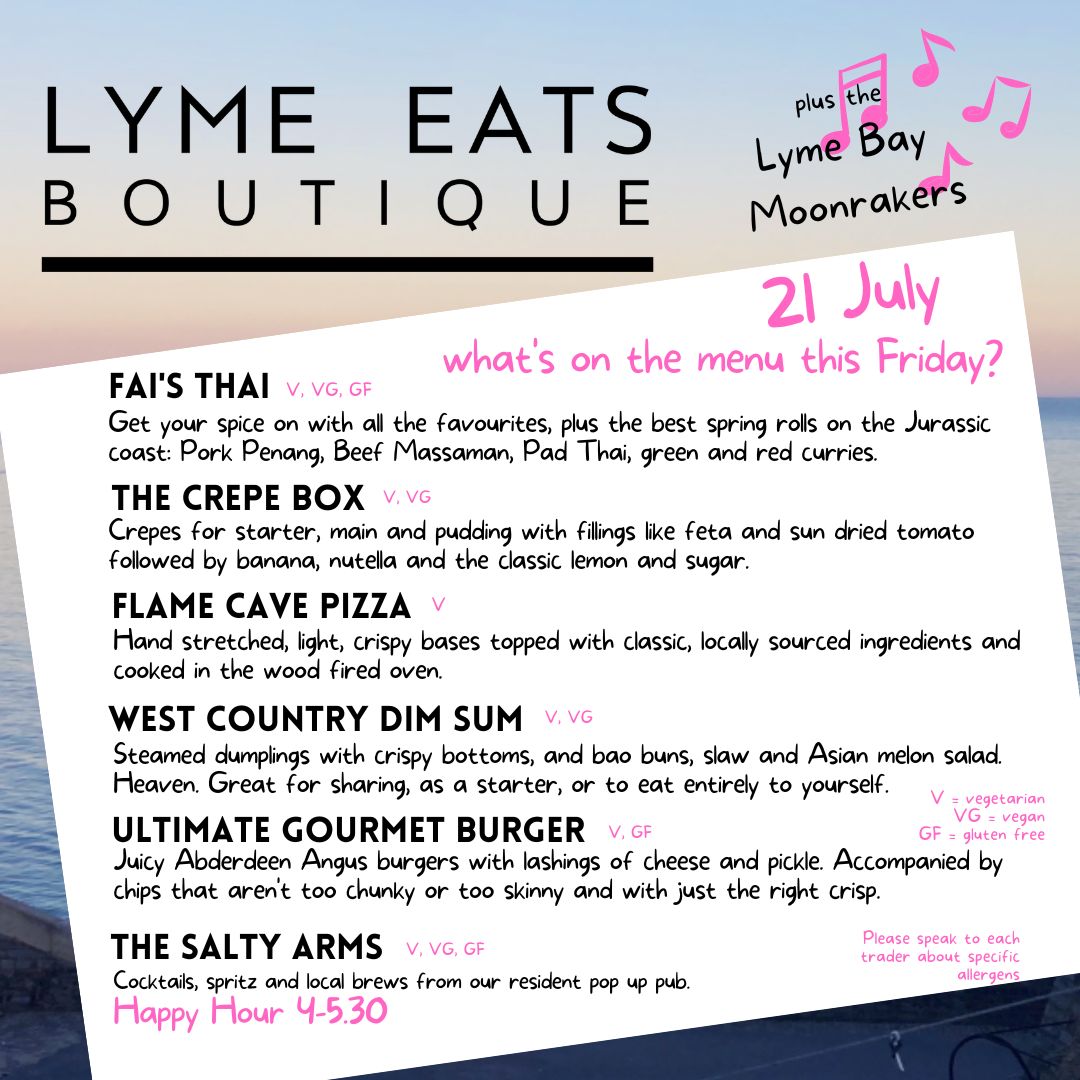 Frequently Asked Questions
Whats on the menu?
Scroll up! OR, check out each event on our calendar a few days beforehand to see the line up of traders. Its also posted on our facebook page, Instagram and on Google My Business. Sometimes it can change last minute – life can get in the way sometimes!
What shall I bring with me?
A blanket, a chair, a cushion – whatever takes your fancy for your favourite way to dine. Also worth bringing an extra layer as the sea breeze can be cool. And bring a cup! We run a Borrow and Wash scheme at The Salty Arms (part of our endeavours to eliminate single use plastic). You pay £1.25 deposit for a cup and when you've finished with it return it to us and collect £1. Thats 25p hire to cover the cost of washing. If you don't like this we'll happily fill you own cup (with the standard measures we're selling – don't expect a pint of Margarita).
How busy does it get?
We're still getting to know this crowd so hard to say. It is worth saying though, that street food is not fast food so waiting, queuing, anticipating is part of the event. We suggest you grab a drink from The Salty Arms, get chatting with those around you, and before you know it you'll have made new friends and made it to the front of the queue.
Our traders work long hours behind the scenes to be able to serve up what they love to eat. Please be patient – its a tough industry to be in right now. Please be kind and enjoy the theatre of their cooking. All that hard work is rewarded by having fun with our customers. We love meeting you. 
Why is it about community?
Sharing food is a ritual as old as time. By joining together intros very informal way of dining its a great way to meet people that doesn't put too much pressure on the purse. Our crowd are loyal friends and come back the and again to soak up the atmosphere and catch up with their mates.
Where can we sit?
We've got a few tables and chairs – as many as we can carry with us.  Join someone at a table and and you may find new friends. Or bring a chair, a cushion or a picnic blanket and spread yourself  along the sea walls, find a spot on Church Cliff Beach below us, or on the grass near Mary Anning.
Can we bring our own food and drink?
If you choose to purchase food from an establishment in the town instead, then thats great. Spread the love! But please save little love for us because we are all trying to be viable businesses.
Where are the loos?
The public facilities are located on Bridge Street and these include baby change and disabled access. They are about a 1 minute walk from us. They close at 9pm.
Can I pay by card?
Yes – all traders take cards. There is a cash point towards the top of town if you need. You can also get a little cash back from the pop up pub.
Do you have music?
We offer busking pitches. Please support our wonderful musicians by putting some cash in their case. You can also make a donation at The Salty Arms. Not all events have music as we know that this can make the events inaccessible to some people. 
What time is the market?
We open at 4 and serve until about 9pm or when the food runs out. 
Is there public transport?
We're right by the bus stop where buses go to Seaton, Axminster and Weymouth.
What else is there to do on a day out in Lyme Regis?
So much to do…. visit this wonderful website called Love Lyme Regis for great suggestions
Can't make this one? No worries. Check out our other upcoming events:
"We love Seaton Eats!!! A highlight of the summer season in Seaton! A great time to get  together with friends and family, chilled atmosphere and great location by the sea"
Alanah
"As a regular trader at Unique Boutique Events I have enjoyed thorough professionalism  from the very first event and for the last four years of my association with the management  of this beautiful upmarket festival."
Edmund
"Lovely events that bring people together in a party atmosphere. Always fun and  interesting food choices"
Claire