Rosie from Red Hawk Events on Eleanor's approach to her business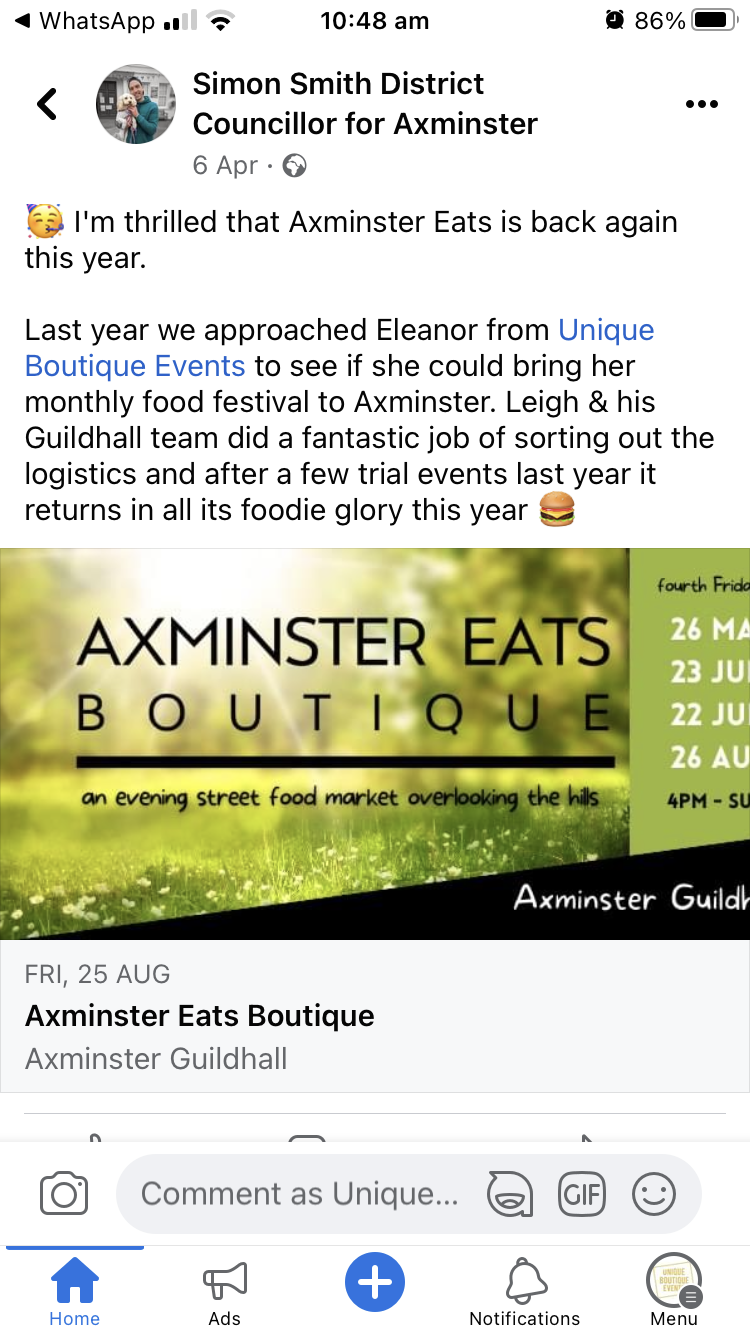 Dear Eleanor,
I trust this message finds you in good health. I'm absolutely delighted to learn of your nomination for the Devon Women in Business award, and I extend my warmest congratulations to you. Your unwavering commitment to both your business and our community is truly commendable and merits the utmost recognition.
I'm greatly honoured that you've approached me for a testimonial, and I'm more than happy to provide one, highlighting your remarkable resilience and achievements.
Eleanor Carr is an exceptional entrepreneur who has demonstrated extraordinary resilience in the face of numerous challenges. In my capacity as the Chair of the Seaton Chamber, I've had the privilege of witnessing her tenacity and unwavering dedication to her business and our community.
Eleanor's journey with her business, Unique Boutique Events, is nothing short of inspirational. Her vision and dedication have been instrumental in not only sustaining her events but also transforming them into thriving, cherished experiences within our community. The Seaton Eats Boutique, in particular, stands out as a testament to her entrepreneurial spirit and her ability to create something truly exceptional.
Eleanor's unwavering commitment to the success of her business has not only been a source of inspiration for our community but has also had a profound impact on our local economy. Her accomplishments reflect not only her business acumen but also her genuine passion for creating experiences that are truly valued by our community.
From the very inception of the Chamber, Eleanor has been an instrumental figure, providing ongoing support and leadership. Her achievements are not only a testament to her entrepreneurial spirit but also her exceptional character and her invaluable contributions to our community.
Eleanor has my wholehearted support for the Devon Women in Business award, and I firmly believe that she is a deserving recipient.
Please feel free to let me know if you require any further assistance. I'm here to support you in any way I can. 
Warm regards,
Carl Northcott
Chair, Seaton Chamber
Director Northcott Building Contractors
Construction Specialists – Bespoke New Builds;
Design & Build Projects; Eco-Friendly Homes;
Heritage Renovations and Project Management.
T  – 01297 551150 M – 07791195585
Northcott Building Contractors Ltd
Office 1, The Grove, The Underfleet,
Seaton EX12 2FU
This message is intended only for the use of the individual or entity to which it is addressed
and may contain information that is privileged, confidential and exempt from disclosure.
If the reader of this message is not the intended recipient, you are hereby notified that any
distribution or copying of this communication is strictly prohibited. If you have received this
communication in error, please notify us by return email as soon as possible.