Covid precautions we're taking to keep you safe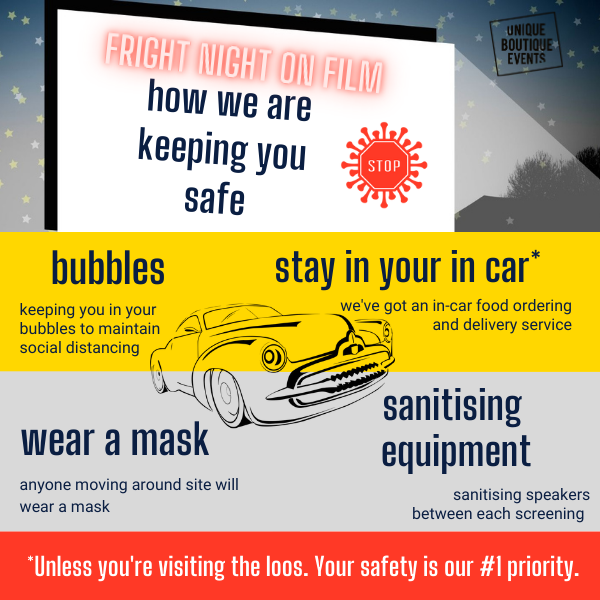 Bubbles for social distancing
You'll be in your bubble in your car, and you won't need to leave your car for the duration, unless you need to use the toilet facilities.
Stay in your cars
We have a system in place so that you can order refreshments from you car, and we'll deliver them to you. Payment will be taken by card on delivery.
Masks – we're all wearing them
If you do need to use the loo at The Dolphin please wear a mask when you leave your vehicle and for the duration of your visit to the facilities. Please follow the queuing system at the loos, and children will need to be escorted by an adult. We'll also be sporting our best masks for the duration, and may talk to you sideways through your car window rather than face on. We're not weird, just being super careful.
Sanitising Equipment
We are trying to reduce handling stuff, so tickets are paperless – all we need is the name you used when booking, and we ask that you take your rubbish home with you so that our staff don't have to handle it. Please recycle / compost where possible. Payment for refreshments will be card only, preferably contactless. All the speakers will be sanitised between screenings.
General info and FAQs
How many people does a ticket cover?
A ticket covers one vehicle and/or a maximum of 6 people, because this is the number of people allowed in a bubble. You can find out who is exempt from this rule (see 2.10) here.  Please see below about how we'll manage the rule of 6. You can read up about how to share your vehicle safely with people you don't live with here.
Can I sit outside my car?
Due to social distancing please refrain from sitting outside your car. This will also ensure everyone has a good view and may enjoy the film.
Can I leave my car?
You don't need to leave your car unless you need to use the toilet facilities.  
How do we hear the film?
The sound for the film will come through a bluetooth speaker which we'll give you when you arrive.
Will there be toilets?
Yes, there will be toilet facilities available at The Dolphin. Please follow the 1m+ social distancing rules and queue outside in the marked area if all the facilities are in use. Please wear a face mask at all times when making a trip to the loo, and refer to your programme for more details. 
Will there be food and drinks for sale?
Yes, we'll have some hot food and drinks for sale, including a popcorn stall run by Beer Parish Council. Do support these independent traders if you can. They've had a tough year. You will be able to order your food and drinks using your phone and we'll bring your order to you. Payment will be by card only please when your order is delivered. 
Can we drink alcohol?
You can buy drinks from The Dolphin pub but please remember the laws on Drink Driving. The person with the car keys on them will be considered in charge of the vehicle and if that person is over the legal limit they could be subject to a fine of £2500 and/or be disqualified from driving. Read the legislation here https://www.legislation.gov.uk/ukpga/1988/52/section/4.
What about big cars?
Larger cars such as SUVs will be parked last, around the edges and the back of the space. 
Can I bring my van?
If possible please don't. We have limited space and the largest vehicles will be parked the furtherest away from the screen.
RULE OF 6
Please remember that social gatherings are limited to a maximum of 6 people. If you have more than 6 people in your vehicle you will need to show us that you are exempt from this government rule. We really don't want to tun you away but will do so if we feel that the government rule is being flouted and you won't get a refund. 
Can I bring my dog?
Yes, if they are well behaved and can sit in your car without disturbing our other customers.
What happens if my windscreen mists up?
Please leave a window open a little to avoid misting up the windscreen. We'll supply you with tissue to keep it dry, though you may prefer to bring your own cloth or towel for this purpose. Please avoid running your car engine because the noise and the lights will disturb the comfort of other customers and possibly nearby residents. 
What happens if it rains?
The show will go on!
What happens if its cold?
Please don't run your car engine during the film for the comfort for everyone, including our neighbours and our planet. We suggest you bring blankets and snuggle up. There will be hot drinks for sale too. 
What happens if its windy?
If the wind is too great for the safety of everyone the event will be postponed. We'll make the decision by 5pm on Friday 30 October and contact you via email. Please see the refund policy below.
What happens if the event is postponed due to weather?
We will arrange another date for which your ticket will be valid, and we'll contact you by email. You won't need to do anything. If you can't make that re-arranged date we will offer you a refund minus the transaction fees.
Can I get a refund on my ticket?
All tickets are non-refundable except in the case of postponement of the event due to high winds or lightening.
How do I contact the organisers?
You can email us at chat@UnqiueBoutiqueEvents.co.uk up to 48 hours before the event, or phone us on 07970 857696.
What are you doing to prevent the spread of Covid-19?
This is a socially distanced event and Unique Boutique Events have worked closely with Beer Parish Council and East Devon Distract Council the entree we have your safety and the safety of our staff at the heart of this event. We ask that you:
respect the rule of 6 and only fill your car only with people in your bubble.
respect the social distancing rules and only leave your car for the toilet facilities.
When you do so please ensure anyone over 11 is wearing a facemask.
We have out in place a number of measures to ensure that the equipment is safe (eg the speakers),
that you don't have to queue for refreshments, and
that neither you or our staff are exposed to virus transfer any more than you need to be. This is why we ask that you please take your rubbish home with you.
at the point of sale we will collect information about where you live and your contact details. These details will be used to communicate with you in the event of postponement, and more importantly, should we need to track and trace. By purchasing a ticket you agree to let us contact you for either of these 2 purposes. Please see the Privacy Policy for more information on data handling.
We will reiterate these messages to you on the evening, but please do talk to us if you have any concerns.